Vergangenheit, Gegenwart und Zukunft der invasiven Bioaggressoren in den französischen Wäldern
Invasive Pests in French Forests – Past, Present and Future,
Los bioagresores invasores en los bosques franceses: pasado, presente y futuro
Les bioagresseurs invasifs dans les forêts françaises : passé, présent et avenir
Invasive pests have had a significant impact on French forests since the end of the 19th century, and this phenomenon has been accelerating in latter years. Most of these now come from Asia. We conducted a review of the 10 most damaging invasive pathogens and pests for forests. The goal of the European regulation on "plant health" implemented in December 2019 is to limit further introductions and organise monitoring and control in the event that an introduction is observed. We describe how the regulation is implemented for French forests. Finally, innovative methods for anticipating this hazard and identifying the pests that constitute the greatest risk for French forests in the short term are presented and discussed.
Les bioagresseurs invasifs affectent lourdement les forêts françaises depuis la fin du XIXe siècle et le phénomène s'accélère ces dernières années. La majorité d'entre eux arrive désormais d'Asie. Une revue des dix pathogènes et insectes invasifs les plus dommageables aux forêts est réalisée. Le règlement européen sur « la santé du végétal » mis en application en décembre 2019 vise à limiter les introductions nouvelles et organise la surveillance et la lutte en cas d'introduction constatée. Sa déclinaison forestière française est exposée. Enfin, les méthodes innovantes permettant d'anticiper le risque ainsi que les principaux bioagresseurs qui présentent une menace à court terme pour la forêt française sont présentés et discutés.
Fichier principal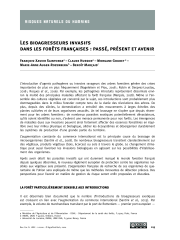 Revforfr_2020_72_2_Saintonge.pdf (1.22 Mo)
Télécharger le fichier
Origin : Explicit agreement for this submission