Gouvernance foncière des grands périmètres irrigués au Sahel et justice sociale
Land governance of large irrigated areas in the Sahel through social justice lens. The interest in developing large-scale irrigation schemes to meet the food security challenges of Sahelian countries remains the subject of numerous criticisms regarding the negative effects of their setting up and operation: land grabbing, environmental degradation, increased household vulnerability, etc. Some of these criticisms are made by civil societies and populations affected by development projects, who feel that it is unfair to be deprived of the management of their land and the resources it contains. In this article, based on three case studies – Sélingué in Mali, Bagré in Burkina Faso and the Compagnie Agricole de Saint-Louis in Senegal – we show that conflicts over irrigated land are indicative of the population demands for greater justice in the governance of irrigated schemes. To carry out our analysis, Fraser's theoretical framework of social justice and its three dimensions (redistribution, recognition, participation) are exposed to analyze the claims expressed by the actors for the recognition of their land rights. Noting the relations of domination within our three irrigated schemes, we discuss the different dimensions of social justice in the governance of land through the analysis of the conditions of actors' settlement. Finally, we suggest that a "commons approach" could help place actors' justice issues at the heart of a fairer governance of projects.
L'intérêt du développement de grands périmètres irrigués pour répondre aux enjeux de sécurité alimentaire des pays du Sahel demeure l'objet de nombreuses critiques quant aux effets négatifs de leur mise en place et de leur exploitation : accaparement des terres, dégradation environnementale, vulnérabilité accrue des ménages... Certaines de ces critiques sont portées par les sociétés civiles et les populations affectées par les projets d'aménagement qui trouvent injuste de se voir dépossédées de la gestion de leur foncier et des ressources qu'il porte. Dans cet article, à partir de trois études de cas-Sélingué au Mali, Bagré au Burkina Faso et la Compagnie agricole de Saint-Louis au Sénégalnous montrons que les conflits autour du foncier irrigué sont révélateurs de revendications des populations pour une plus grande justice dans la gouvernance des périmètres irrigués. Pour réaliser notre analyse, le cadre théorique de la justice sociale de Fraser et ses trois dimensions (redistribution, reconnaissance, participation) sont exposés pour analyser les revendications exprimées par les acteurs pour la reconnaissance de leurs droits fonciers. Constatant les rapports de domination au sein de trois périmètres irrigués, nous discutons des différentes dimensions de la justice sociale dans la gouvernance du foncier à travers l'analyse des conditions d'installation des populations. Enfin, nous suggérons qu'une « approche par les communs » pourrait permettre de placer les enjeux de justice pour les populations au coeur d'une gouvernance plus équitable des aménagements.
Fichier principal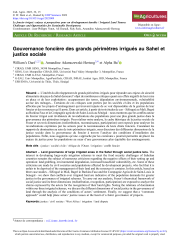 cagri220054.pdf (241.53 Ko)
Télécharger le fichier
Origin : Publisher files allowed on an open archive
Licence : CC BY NC - Attribution - NonCommercial