Rio Verde or agribusiness and local development interactions in Brazil
Le cluster de Rio Verde ou l'interaction de l'agrobusiness et du développement territorial au Brésil
O cluster de Rio Verde ou as interações entre agrobusiness e desenvolvimento territorial no Brasil
The globalization of the economy boots a strong development of an agribusiness model based on the integration of intensive and specialized farming systems in agribusiness companies driving input supply, technique and economic aspects through global trade channels. This model draws new patterns of local development where farmers and local people interact with global players. The county of Rio Verde (Goías State, Brazil) is a good example of this model, with the gradual development of an agribusiness cluster based on corn and soybean then an intensive poultry production coordinated by Brasil Foods. In the 2000s, the strong development of sugar cane production interacts with this dynamics driven by Brasil Foods questioning directly the model of local development. The authors analyze this local and regional development through the building the agribusiness cluster. The building of the Rio Verde cluster based on global players has a substantial improvement in the main indicators of socio-economic development. However, the externalities are high environmental pressure and governance mechanisms dominated by large private firms and funded in large part by the government.
La mondialisation des échanges des produits agricoles provoque l'expansion, d'un modèle agroindustriel, basé sur l'intégration de systèmes de production intensifs et spécialisés à des grandes firmes pilotant l'apport d'intrants, la production, la transformation et la commercialisation au travers de circuits commerciaux et financiers planétaires. Impulsant des trajectoires de développement exogènes aux bassins de production, ce modèle interroge quant aux formes de durabilité qu'il instaure. La commune de Rio Verde (Goías, Brésil), illustre ce processus, avec la construction successive d'un pôle agroindustriel autour de la production de grains (maïs, soja), puis d'un pôle avicole et porcin organisé par la firme Perdigao (aujourd'hui Brasil Foods). L'émergence de ce cluster agroindustriel international appuyé par des politiques publiques fédérales volontaristes, a permis une amélioration substantielle des principaux indicateurs de développement socio-économique, même si cela s'est réalisé au prix de pressions environnementales fortes et d'une gouvernance territoriale dominée par les grandes firmes privées et le pouvoir public fédéral. Plus récemment, l'expansion de la canne-à-sucre et du secteur de l'alcool réinterroge cette dynamique territoriale autour de l'articulation.
A globalização do comércio de produtos agrícolas provoca a expansão do agronegócio, baseado na integração de sistemas de produção intensivos e especializados. Grandes empresas globais fornecem pacotes técnico-econômicos de produção, e controlam o fornecimento de insumos, a transformação e a comercialização dos produtos através de canais comerciais e financeiros globais. A sustentabilidade deste modelo, pulsando caminhos de desenvolvimento exógenas, deve ser analisada. O município de Rio Verde (Goiás, Brasil), ilustra esse processo com a construção sucessiva de um centro agroindustrial de grãos (milho e soja), seguido do setor da avicultura e suinocultura controlado pela empresa Perdigão (hoje Brasil Foods). O surgimento deste polo agroindustrial internacional, apoiada por políticas públicas federais proativas, levou a uma melhora substancial dos principais indicadores de desenvolvimento socioeconômico, embora isso foi conseguido à custa de pressões ambientais fortes e de uma governança territorial dominada por uma empresa e o poder público federal. Mais recentemente, a expansão do setor de açúcar e álcool transtorna esta dinâmica territorial articulada entre produção de grãos e pecuária intensiva.
Fichier principal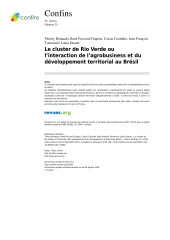 2015_Thierry Bonaudo_Confins_1.pdf (517.25 Ko)
Télécharger le fichier
Origin : Publisher files allowed on an open archive